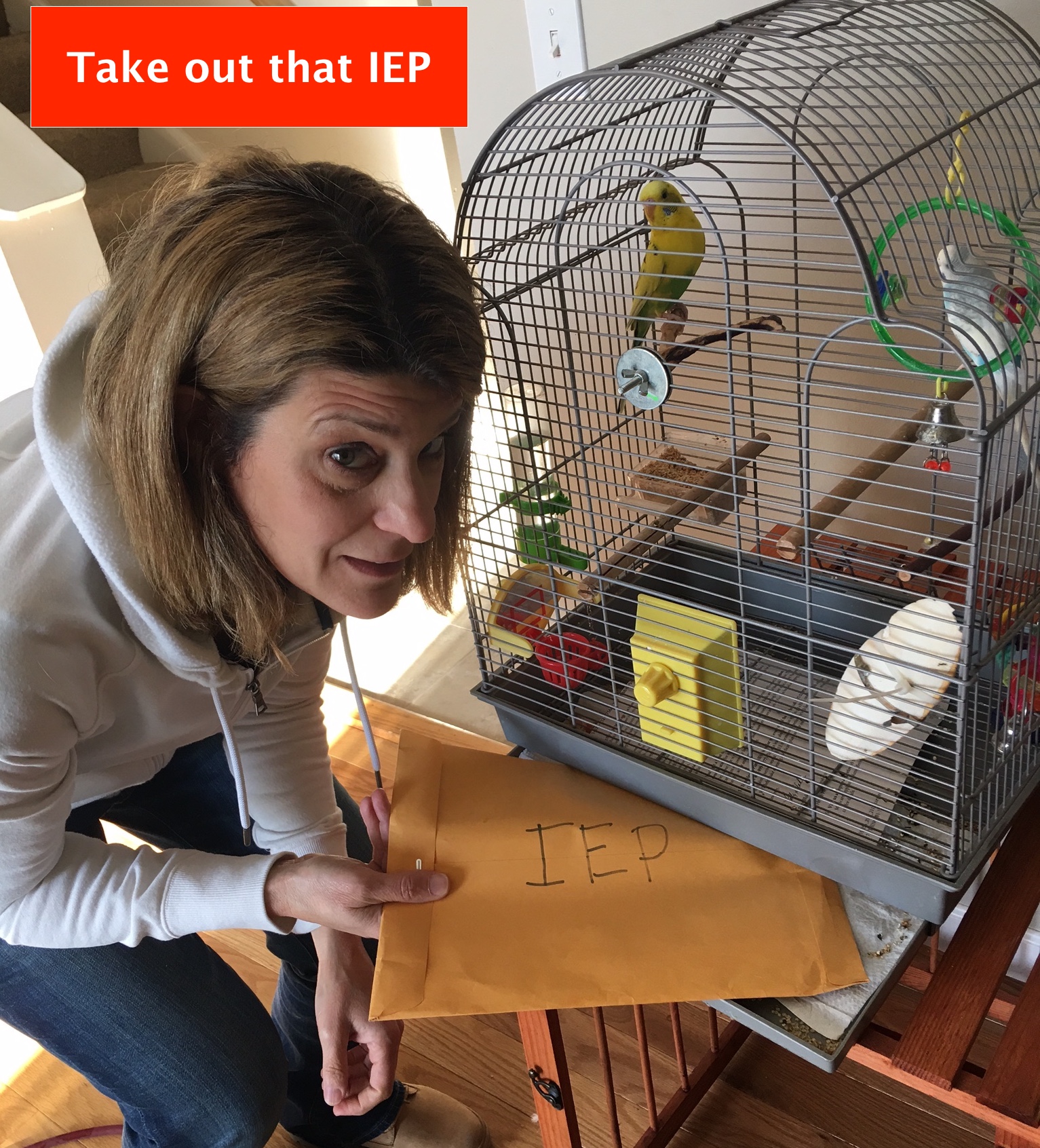 2016 is gone at last. And sadly, even though we're only a few days into the new year, so too, are most of our sisterly resolutions for self-improvement. 
"Here's your glass of wine, Patty. Extra large, the way you like it."
"Gina, weren't we giving up drinking in 2017?"
"I know, but let's focus on the positive. We had a good 8-hour run."
Our failings aside, the beginning of the year is a great time to set your priorities, particularly when it comes to the education of special needs kids. To shed light on this subject and provide some helpful suggestions for parents, Gina sat down with our resident SPED Expert, Education Consultant Cynthia DeAngelis, M.Ed.
Gina: "Cynthia, after a long holiday vacation, a lot of special parents are worried about the start of the year and getting their kids the educational support they need to be successful. What can they do?"
Cynthia: "It's an excellent question, Gina. I have five really good suggestions:
Dust off that IEP. Many parents get their signed IEP copy and file it away until the next Team Meeting. Take it out of hiding. You should review and update the document frequently throughout the year. Then when the Team Meeting occurs, you have updated information all ready to add to the plan.
Sit down and review the IEP with your child. It's important that you involve your child with their educational needs as early as possible. A smart way to accomplish that is to introduce them to the IEP and use it as an outline to discuss their needs. Sit down with them in a quiet room and go through the document together.
Get out your red pen and start making edits. Begin with the "Concerns" section. I like to remind families that this section helps drive the bus. Ask: What are the areas you are most concerned about?  The next section outlines your child's interests and strengths. Ask:  Did they take up a new hobby or develop an interest? For example, did they get a purple belt in Karate, or are they now part of chorus and loving it?  Be sure to update new interests on the IEP and revisit this section periodically as your child's interests change and grow.
Next, review the "Vision" section. The goals in this area are not tangible ones; they are the dreams by which the goals are built.  The goals may be a bit lofty, but should be attainable someday. For example, perhaps your child has begun talking about being a writer or a hairdresser.
Review the accommodations and goals with your child. Read through each goal/accommodation and ask your child if they make sense and if they are helpful. If they aren't helpful, cross them out then ask your child what they think would be more beneficial. Mark up all your changes on the IEP.
Bring that marked up IEP to your next meeting. You'll have a great starting point to discuss where your child is, and at the same time, you will ensure your child's needs and feedback have been expressed.  
Gina: "Thanks Cynthia. This is great advice. I love how you involve the child."
Cynthia: "You are very welcome, Gina.  It's so important for parents to empower their kids to get involved and do what they can for themselves. That is where self-esteem grows."
Cynthia DeAngelis, M.Ed., is a Special Education Consultant with more than 35 years of experience helping students achieve success and parents make informed decisions. Gina Gallagher is a highly experienced special needs parent with more than 21 years of making fly-by-the-seat-of-her-pants, imperfect decisions.